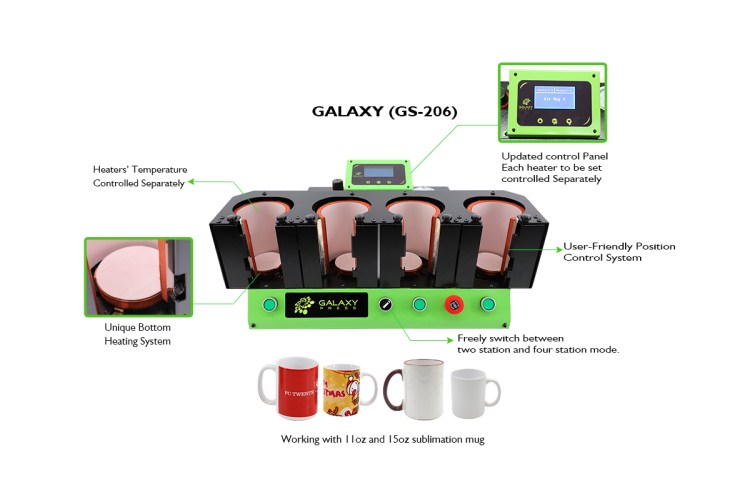 Galaxy Air Mug4 (11oz/15oz Mug) GS-206 is 4 stations and automatic mug press, it need to be work with an extra air compressor. This mug press is designed for the customer who would need to print thousands of mugs a day. The workers just need to wrap the paper and put in and take out the mugs from the mug press.
It is offered with a heater which can compatible with both 11oz and 15oz ceramic mugs. Bottom heating element would ensure a perfect full printing result although it is automatic machine.
Features
1. Bottom Heating
Guarantee top-to-end full image transfer printing effect.
2. Heaters' Temperature Controlled Separately
Circuit board can control each heater's temperature separately, which lets all heaters heat in precise temperature.
3. Desk-top design
Machine can be put anywhere on a normal desk, unlike industry oven which takes great space.
4. Freely switch between two stations and four stations mode.
Customers can use GS-206 print 2 pieces of mugs or 4 pieces of mugs as they need by toggle switch.
5. New mug heater with longer size
Lengthened heater guarantees full image color printing result for 11oz and 15oz mug.
6. Compatible with 11oz and 15oz sublimation mug
GS-206 is compatible with 11oz and 15oz sublimation mug printing.
Model:
GS-206
Heater Size:
W226mm*H138mm for 11oz/15oz mug
Power(120volt)

4*300W/4*120W

16.1 Amps(max)

Power(240volt)

4*300W/4*120W

8.1Amps(max)

Temperature Range:
Max.220℃/430℉
Time Range:
0~999S
Machine Size(While Open):
65.2*33.9*28.7cm
Packing Size:
73*42*36cm
Packing Weight:
25kg
Productivity:
60-70pc/hour,
Maximum Paper Printing Size:

11oz mug:206*95mm(L*W)

15oz mug:206*105mm(L*W)

Suggest Temp&Time Setting:

150℃/190℃ 40-50secs

302℉/374℉ 40-50secs

Bottom Heater 130℃-150℃(266℉-302℉)

Certificate:
CE, FCC
Warranty:

1 year on control board,

2 years on whole machine except heaters.