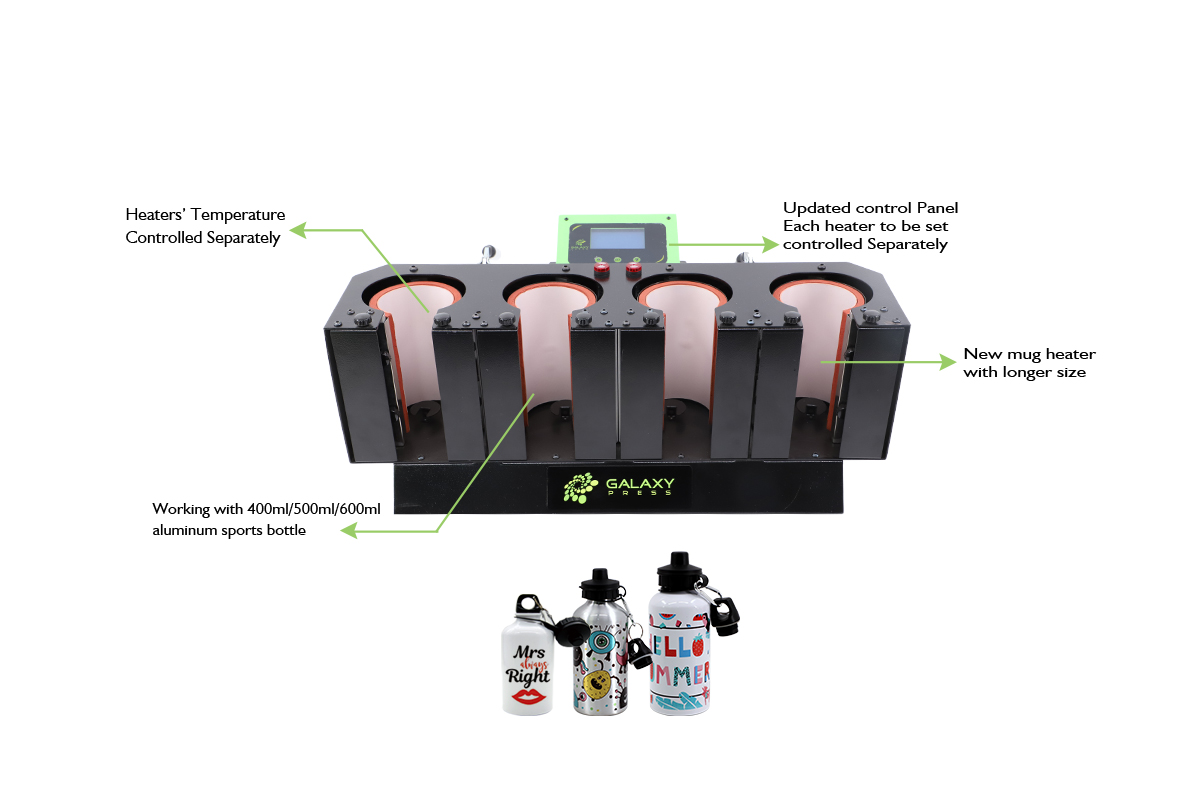 Galaxy Manual Mug4 GS-207M is the manual type of 4 stations mug press, the structure and function are the same as GS-207, just do not need any extra air compressor and it is manual so the production efficiency would be lower than GS-207.
So this machine would be good for the customers who would need to print few hundreds of Aluminum water bottles a day and have some limit on budgets for getting new equipment.
Features
1. GS-207M is designed specially for 400ml/500ml/600mlaluminum water bottle printing.
2. Heaters temperature controlled separately.
3. Updated control panel each heater to be set controlled separately.
4. New mug heater with longer size.
Model:
GS-207M
Heater Size
W195mm*H170mm
Power(120volt)
4*300W/11.5Amps
Power(240volt)
4*300W/6Amps
Temperature Range:
Max.220℃/430℉
Time Range:
0~999S
Machine Size(While Open):
65.2*33.9*28.5cm
Packing Size:
73*42*37cm
Packing Weight:
26.5kg
Productivity
120-140pc/hour
Maximum Paper Printing Size:
400ml sports bottle: 175*99mm(L*W)
500ml sports bottle: 175*114mm(L*W)
600ml sports bottle: 175*134mm(L*W)
Suggest Temp&Time Setting:
150℃/180℃ 30secs
302℉/356℉ 30secs
Certificate:
CE, FCC
Warranty:

1 year for control board,

2 years on whole machine except heaters