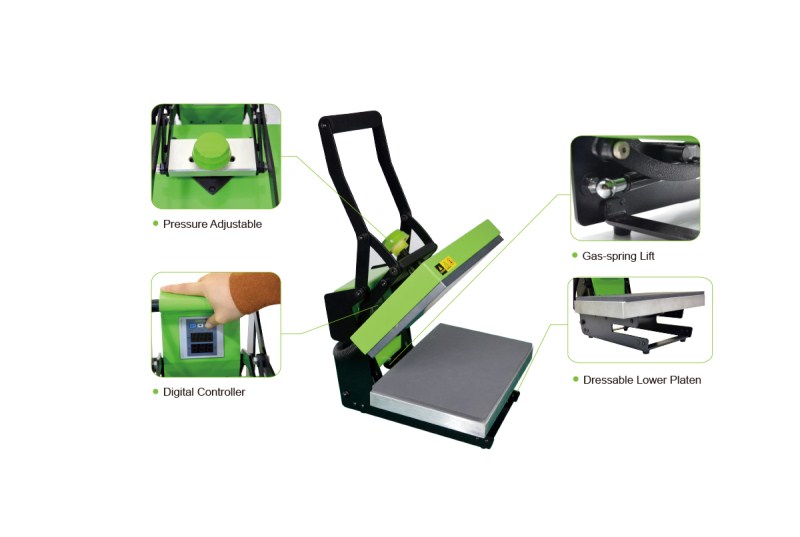 Hobby Press 2 GS-802 is an A4 size press, suitable for dye-sub starter, vinyl crafter, besides, it can be work with laser transfer too. So it is a perfect press for hobby or starter or if you are struggling with space at your shop or working places. 15kg weight including packing can let you be managed to take with you where ever you want, so if you are running a business for party or small events to local market, this little hobby press would be your best choice too.
Light weight but durable and functional are what can be matched with our hobby press 2 GS-802.
Features:
1. Compact Design:
The A4 size heat platen and lower platen make Hobby Press II a cute design and light weight.
2. Over The Center Pressure Distribution:
The pressure source is strategically placed over the center of the upper platen and uses struts to drive that pressure out to all corners. The result is an even and heavy duty distribution of pressure that is unmatched by other heat
presses in the market today.
3. Dressable Lower Platen:
The special laser cut base allows users to dress garments over the lower platen without stretching them out. Simply load the shirt onto the platen and feed the bottom of the garment through the clearance underneath the lower platen.
4. Gas-springs Lift:
With quality dual gas-spring, upper heat platen can be lifted gently for a smooth and quiet release.
5. Customized Brand&Color Available:
Hobby Press II GS -802 accept customized brand and color, helps customer promote brand force with its own brand and unique color.
Model
GS-802
Heater Size:
9"X12" (308X216mm)
Power(120volt)
700W/6.4Amps
Power(240volt)
700W/3.2Amps
Temperature Range
Max.221°C/430°F
Heating up Time
180℃/16 minutes
Time Range
0~999S
Customized Color
Available
Customized Brand
Available
Dimension(While Open)
40*31*59cm
Packing Size
46*36*33cm
Packing Weight
15kg
Certificate
FCC; CE
Warranty
3 years on heat platen
1 year on parts