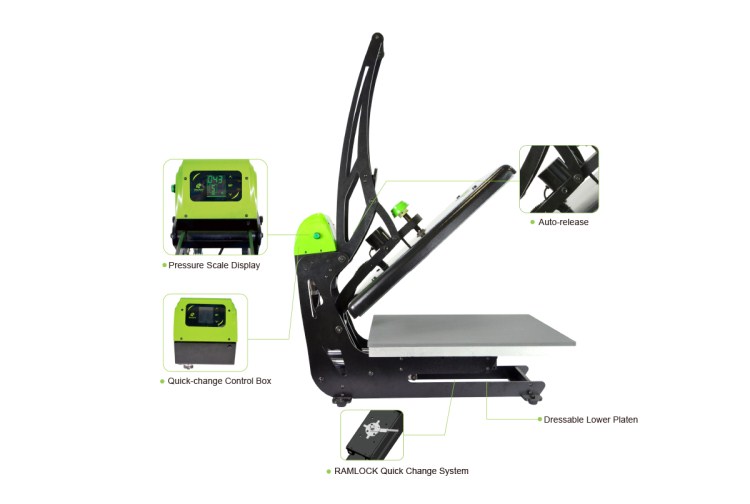 1. Auto-release
With a quality electro-magnet, the upper platen automatically releases at the end of the time cycle.
2. Dressable Lower Platen
The special laser cut base allows users to dress garments over the lower platen without stretching them out.
3. Quick-change Control Box
The control box can be taken off and put on easily, which helps machines' maintenance.
4. Pressure Scale Display
The circuit board shows pressure adjust scale from 0~9, which offers customers an easy and efficient detting for different products.
5. RAMLOCK Quick Change System
With self-developed "RAMLOCK" quick change system, customers can change lower platen with different sizes easily.
Model:
GS-105-1515
GS-105S-1515
GS-105-1620
GS-105S-1620
Heater Size:
15"X15"(381X381mm)
15"X15"(381X381mm)
16"X20"(406X508mm)
16"X20"(406X508mm)
Pressure Display:
Yes
Yes
Yes
Yes
Auto Open:
Yes
Yes
Yes
Yes
Slide-out LowerPlaten:
No
Yes
No
Yes
Power(120volt)
1800W/16.4Amps
1800W/16.4Amps
1800W/16.4Amps
1800W/16.4Amps
Power(240volt)
1800W/8.2Amps
1800W/8.2Amps
1800W/8.2Amps
1800W/8.2Amps
TemperatureRange:
Max.221"C/430°F
Max.221"C/430°F
Max.221"C/430"F
Max.221"C/430*F
Heating Up Time(180℃)
20minutes
20minutes
20minutes
20minutes
Time Range:
0~999S
0~999S
0~999S
0~999S
Way To ChangeLower Platen:
"Ramlock" quick change system
Available ExtraLower Platen:
4"X4";11"X15";8"X10";6"X20";6"X10"
Machine Size(opensize):
63X41X86cm
63X41X86cm
75X43X100cm
75X43X100cm
Packing Size;
74X48X57cm
74X48X57cm
84X52X59.5cm
84X52X59.5cm
Packing Weight:
34kg
49kg
39kg
54kg
Certificate:
CE,FCC
Warranty:
10years on upper heat platen, 1 year on parts