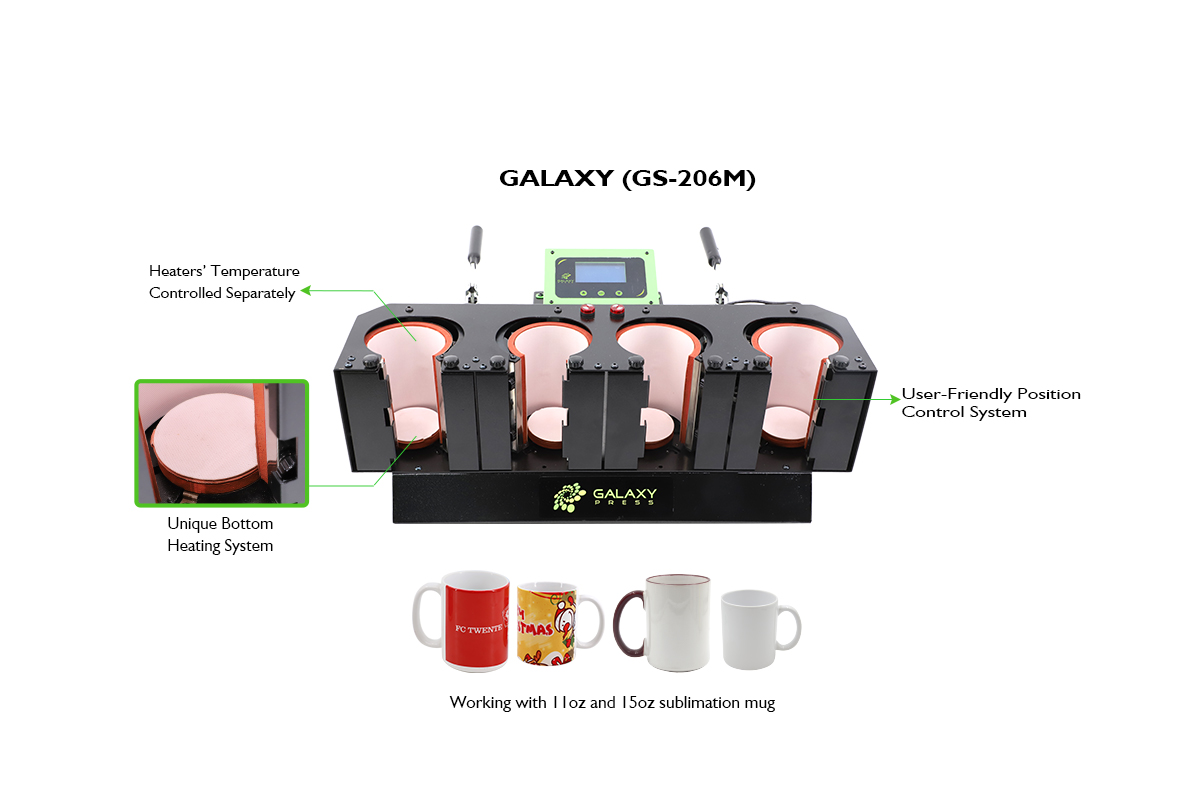 Many customers know that GALAXY PRESS developed Galaxy Air Mug4 GS-204 for 11oz/15oz sublimation mug printing in the year 2016, and in last year 2019 GALAXY PRESS launched the latest air mug4 press version which is Galaxy Air Mug4 GS-206. Desk-top design and air compressor control make GS-206 perfect solution for commercial order fulfillment without space limitation.
Now to offer customers a different choice, Galaxy Press develops Galaxy Manual Mug4 GS-206M. GS-206M is also developed for 11oz and 15oz sublimation mug printing.
GS-206M operates by manual control so can work without air compressor, but also guarantees efficient production rate. With more competitive price, customers can select GS-206M as a second choice for commercial orders.
Model:

GS-206M

Heater Size:

W226mm*H138mm

for 11oz/15oz mug

Power(120volt)

4*300W/4*120W

16.1 Amps(max)

Power(240volt)

4*1200W/4*120W

8.1Amps(max)

Temperature Range:

Max.220℃/430℉

Time Range:

0~999S

Machine Size:

65.2×33.9×28.7cm

Packing Size:

73×42×36cm

Packing Weight:

25kg

Maximum Paper Printing Size:

11oz mug: 206*95mm(L*W)

15oz mug:206*105mm(L*W)

Suggest Temp&Time Setting:

150C/190C 40-50secs

302F/374F 40-50secs

Bottom Heater:150C(302F)

Certificate:

CE,FCC

Warranty:

One year on control board,two years on whole machine except heater.